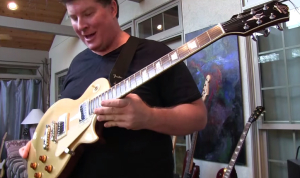 I remember the first time I bought an Oscar Schmidt guitar back in 2006. It was the ES335-styled OE30. I purchased it for $149 and remember thinking as I clicked the "buy" button, that I had probably just taken a chance on a steaming heap of junk. But man, did the photos of it look really nice . . . and there were lots of positive comments from previous purchasers.
Jumping ahead, just let me say that the OE30 became one of my favorite guitars – and I own a bunch. Eventually one of my young guitar students loved playing it so much that I agreed to sell it to him – a sell I ended up greatly regretting.
Later I bought another OE30 and also the jazz-box styled OE40. Both instruments continued to build my confidence in the Oscar Schmidt product line. Quality instruments, great sound, great playability, nice looks, decent features – what's not to love?
The Oscar Schmidt OE20 Gold Top Les Paul – A Formidable Axe, Regardless of Price
Recently I was browsing Amazon for a cheap electric guitar fix and ran across the Oscar Schmidt OE20 Gold Top Les Paul styled guitar. At $199 and free shipping with my Amazon Prime subscription I thought "how could this be a bad choice?"
Glad I trusted my instincts and followed my lust for cheap guitars. The OE20 is now my favorite Oscar Schmidt purchase – and dare I say, my favorite Les Paul type guitar! You see, I already own the parent company Washburn's WP50, and a true blue Gibson Les Paul Studio.
The OE20 is just beautiful. I can't find a flaw anywhere in it's finish. The rosewood fingerboard, neck and frets are quite acceptable and comfortable to play. The intonation right out of the box was spot-on. The tuners perform very well for an ultra-cheap guitar. The pickups are bright and clear – actually kind of vintage-y. I realize that probably isn't a word.
There's not much I can say in this post that isn't said in my video review below. Watch and see how nice "cheap" can sound. Then thank the folks in China for making a gold-top that is beautiful and feature-rich, at a price that pretty much any one can afford. Great job Oscar Schmidt!
I should also say that I made my purchase through AAA Musical on Amazon.com. They are a highly-rated seller on Amazon, and they've been in business for over 50 years. I talked with one of their owners up in Illinois. I'm going to keep an eye on their offerings in the future.
Here's my YouTube review of the Oscar Schmidt OE20: