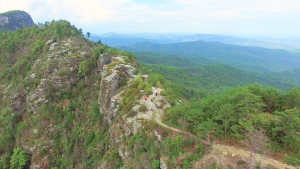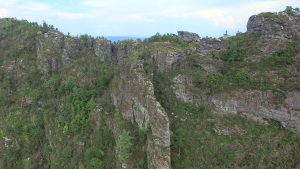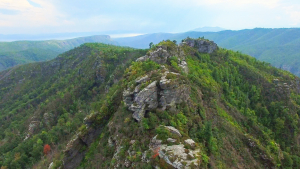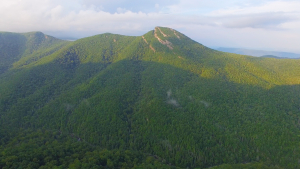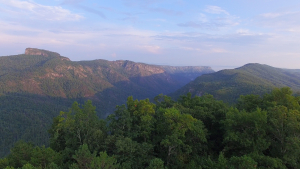 I've traveled a good bit from Maine down to the Florida Keys – from the Great Smoky Mountains to Niagara Falls – from the New River Gorge to the highest of of the Black Mountains, but nowhere is more awesome in the Eastern United States than Linville Gorge – The Grand Canyon of the East. It's 12,000 acres of unspoiled, rugged, peaceful and utterly inspiring natural beauty.
Although the mountains here are only a little over 4,000 feet, the variety of topography is super-dramatic. The deep green vegetation becomes electric yellow, gold, orange and red in the autumn months, and the mists and shadows make the rugged scenery like an ever morphing kaleidoscope.
The Linville Gorge is located only about 30 minutes off the Blue Ridge Parkway, south of Boone and Grandfather Mountain. Most of the ridge line on the east and west rims are easily accessible via dirt roads that can be a bit bumpy, but are still easily approached by car.
In the video on this page, I highlight one of my favorite areas, the Chimneys Trail south of Table Rock on the eastern rim of the Linville Gorge. This is an area of craggy and unusual rock formations with amazing views of the western gorge cliffs, the Linville River and Table Rock and Little Table Rock.
The Catawba Valley falls off dramatically to the east, and the black mountains with Mt. Mitchell loom far to the west. This is some great dramatic scenery, with amazing DJI Phantom 3 video from drone pilot Jamie Hastings. I try to answer some questions about the area, and tell how to access it in the video.
If you have any questions, leave them here and I'll try to respond as I have time. Come visit this amazing location on your next visit to western North Carolina. Shot in beautiful 4K with the DJI Phantom 3, GoPro Hero4 Black Edition, and Sony FDR-AX33